Home
>
Filtration Systems (Van Mounted and Portable)
ARTICLE
Filtration Systems (Van Mounted and Portable)
17 April 2014
Streamline® water filtration systems are designed to be used for window cleaning, bus shelter cleaning, solar panel cleaning, and boat cleaning etc. where a spot-free finish is essential.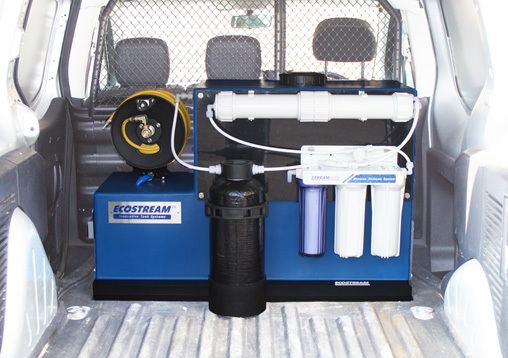 To achieve this, the system has a series of filters to produce pure water with a reading of 0ppm. However, the filters require maintenance from time to time to ensure optimum efficiency.
All van-mounted systems are fitted in-house at Varitech Systems. This ensures every system is bespoke; made and fitted to customers' specifications. If you are in a soft water area (<150) you would only require a Resin Bead System, and if you are in a hard water are you would require a full Reverse Osmosis System.
We are concerned for your safety…
We always recommend you take the option of having a baffled tank with your system, rather than the standard upright or flat. 'Baffles' are areas within your tank that separate the load and prevent uncontrolled movement of the water.

We always enclose the tank either in a stainless steel frame or with two plates bolted to the floor of the van. Ratchet straps are never used to secure the tank.

Each litre of water weighs a kilogram, so a 1000 litre system would be a tonne of water - we have a legal obligation to ensure that your system is fitted securely.
With experienced engineers fitting every system and full technical back-up and after-sales service, you can be assured that you are in safe hands. While we provide you with a tailor-made system to suit your demand, you can still keep within your budget and be assured that your system is for life.
Ecostream™ Van Systems
The new and innovative range of Streamline® Ecostream™ systems are designed especially for the price-conscious window cleaner and cleaning contractor.
These are great starter options suitable for a variety of vehicles with 250-litre, 400-litre, 680-litre and 704-litre tank options. Due to their compact size and the fact most of the components are housed within the tank footprint, these systems take up the least amount of room possible, allowing space for other cleaning equipment, provided the payload of the van allows for the total weight of the system when filled with water. Each system comes complete with pump, controller and is assembled, ready to be installed. Options to add a battery and a robust steel hose reel capable of housing 100-metres of hose are available to be included in the tank design.
Trailer Systems
With 13" wheels for ease of towing, lockable ABS lid, gas struts, jockey wheel and tailgate as standard, this is a high quality specification.
Trailer systems are extremely versatile and allow you to free up the load area in your van or even run your cleaning operation with a car. Options include simple de-ionising resin filter systems, or mini reverse osmosis filter systems for use in hard water areas, fitted and ready to go.
System Specifications include:
• Shurflo 100psi pumps for use with Microbore hoses
• 85AH leisure battery for maximum operating time
• Pump controller for infinite flow control
• Linex floor lining to prevent against rusting
• De-ionising resin filter for fast pure water production
• Lockable ABS hinged lid fitted with gas struts
Options:
• Reverse osmosis filtration for economical water production
• Softener filter kit - extends the life of the R.O. filter
• External ports for ease of filling/supply whilst trailer remains locked
• Solenoid valve for auto shut-off to prevent tanks from over filling
Denver™ Tank Systems
NEW TO THE STREAMLINE RANGE!
Denver Tank Systems are well established in the market as quality skid mounted yank stems, designed to make transporting water as ever t an ever. Fill your bowser at base and tank you water supply with you saving time having to locate a water supply on site.
·Moulded polythene tank for strength and durability
·High performance range with petrol and diesel engine choices to fulfil your needs
·Saves time as removes need to locate a water supply out on location – fill your bowser at base and take you water with you.
·Mounted on frame for stand-alone use or can be mounted on trailer or truck
·Unique dimensions to fit most pickup trucks and vans
·Hot dip galvanised chassis for protection against corrosion, and fork pockets for ease of handling
·Internal baffles prevent water surge during transportation
·18" manhole and sumped drain point
·Built in tie down points

Applications: Window Cleaning, Solar Panel Cleaning, High Pressure Washing, Water Transportation and much more…
Available in three popular sizes: 450Ltr, 600Ltr, 800Ltr
Available in five colours: Red, Yellow, Blue, Green and Natural
Saddletank™
The 300Ltr capacity Saddletank can be mounted on either side or both sides of a van without dominating floor space. Saves you and your work force time, as removes need to locate a water supply out on location - fill your bowser at base and take your water with you. Lightweight and easy to fit, this safety baffled polyethylene tank is essential kit for on-site water uses.
Saddle Tank features:
• Tank with baffle, 2x 4" vented caps, mounted on galvanised frame for water transportation in vans.
• Heavy duty galvanised fixing frame kit for maximum protection against corrosion.
• Fits over wheel arches for maximum load space.
• Anti surge moulded baffle for safe transportation of water.
• Separate chemical storage area.
Available in five colours: Red, Yellow, Blue, Green and Natural
Portable Streamline® Trolley Systems
Streambox™ Trolley System, providing pure water on demand. Simply fill the tank with tap water and it's ready for work, producing 0ppm pure water on demand (versions with resin vessel only). Available in 25Ltr, 28Ltr and 50Ltr trolley options.
Ideal for: Professional window cleaners, general cleaners, hotels, schools, hospitals, nursing homes, public houses, clubs etc.
Includes:
• Compact design, with retractable handles
• Lightweight aluminum frame, for easy handling
• Pneumatic tyres, for rough terrain
• 25Ltr, 28Ltr tank, 50Ltr versions available
• With or without 6x18 resin vessel
• TDS meter and 5mtr of hose with couplings included
• Reliable 100psi Shurflo Pump
• Optional digital flow controller or push button switch
For guideline use only
·The resin filter vessel on the Streambox holds 6Ltr of resin - meaning you can fill it 4 times from a 25Ltr bag of resin.
·Any reading up to 7 ppm is an acceptable level of water purity for pole fed window cleaning.
·If your tap water is at 100 ppm water quality - the resin filter vessel on the Streambox will purify 2000Ltrs of water before it needs to be re-filled. This is enough pure-water to clean the windows on approximately 80 x 3 bedroom houses.
·If your tap water is at 200 ppm water quality - the resin filter vessel on the Streambox will purify 1000Ltrs of water before it needs to be re-filled. This is enough to clean the windows on approximately 40 x 3 bedroom houses.
·Remember - you can fill the resin filter vessel 4 times over, from one 25 Ltr bag of resin!
How to change the resin in the resin filter vessel
·Remove the black resin filter from the trolley and unscrew to top black head.
·Draw the riser tube from the resin contents.
·Dispose of the spent resin in a responsible manner.
·It is not harmful to the environment.
·Once the empty vessel has been flushed out with water, refill the filter housing with new resin leaving an air gap of approximately 2".
·Carefully push the riser into the resin.
·Shake the filter housing in order to allow the riser to 'bottom'.
·Clean the sealing edge of the housing before securing the top.
For more information on the filtration systems available or to request a copy of a brochure, email sales@varitechsystems.co.uk or visit www.streamlinesystems.info .
Call today for a free, no-obligation demonstration on (01626) 830830.
RELATED ARTICLES
No related articles listed
OTHER ARTICLES IN THIS SECTION