Home
>
HIGHLINE™ PRESSURE WASHING
ARTICLE
HIGHLINE™ PRESSURE WASHING
20 February 2015
Pressure Washing at Height has a key part in all external cleaning regimes and in this current economic climate, with everyone vying for business and trying to draw custom in to their shops, outward appearances is everything. They say, 'you never get a second chance to make a first impression'.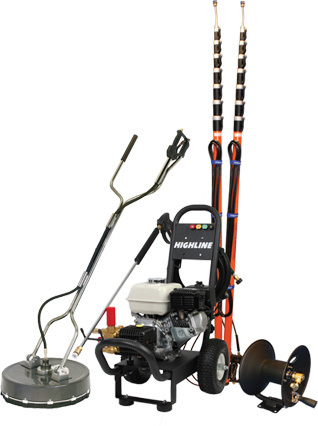 Cladding and fascias on buildings quickly gain a buildup of traffic grime and other dirt which gives the impression of the building being dirty, and how often do you see signs welcoming you to a retail park or chain store which is covered in green algae and bird muck?
Keeping facilities looking in prime condition can be costly and labour intensive, with health and safety issues to be considered too, contract cleaners are always looking for more cost effective and simpler methods of cleaning.
Varitech Systems have identified a need in the market place for a range of telescopic poles that are robust and rigid enough to cope with the demands that high pressure cleaning brings. With six sizes available ranging from 25ft reach to a massive 43ft reach these new composite poles are able to do just that. The range of Highline™ telescopic poles go a long way to keeping costs down and have been designed to work with the operator's safety in mind. One of the simplest ways of doing so is to keep his feet on the ground.
Working at height brings with it a host of necessary, but time consuming risk assessments and method statements, for obvious reasons. Why not simplify all this by using telescopic poles which can be used from the safety of the ground? No need for cherry pickers or other lifting equipment, as theses poles are designed to operate from a pressure washer and reach up to heights in excess of 40 feet (12mtrs). They have hoses rated up to pressures of 225 bar and there is a range of ancillary products too, to deal with most tasks on hand, items such as belt kits (a must have for poles used above 30ft), various nozzle types, swivels, gutter attachments, etc. - The range is designed with ease of use in mind. It is also highly recommended to use a support pole on poles being used in excess of 30ft as high pressure spraying can cause unsteadiness at height.
Varitech Systems is able to produce the pressure washer and water tank side of the deal too. Saddletanks which take up minimal van space are a popular choice. Reliable pressure washers are a must and few would argue that the petrol driven Honda pressure washers certainly tick this box. Pressure washing is an ideal add-on to any contract window cleaning operation and as specialists in van installations, and to meet the needs of the window cleaning/pressure washing market we have designed a system to utilise reject water from the reverse osmosis window cleaning systems which traditionally waste up to 50% of the window cleaner's water. This is then utilized for pressure washing instead, as water purity is of no consequence in this application. Such systems are the way forward and help to maximise water usage and reduce water wastage, a big plus point as a sustainability issue. The contract cleaner could actually use this as part of his marketing too, especially when approaching blue chip companies, as sustainability issues are at the front of peoples' minds these days.
HIGHLINETMproducts are underpinned by the General Pump and Bertolini brands, both proven and reliable industry-tested brands in the market. With a wide variety of accessories available from the huge range of General Pump products, capable of meeting the demands of high flows and extreme pressures, the items listed on these pages are just a taster of much more available. Please enquire from our sales team if you require a product not featured here.
For more information on the pressure washer range available or to request a copy of a Highline brochure, email sales@varitechsystems.co.uk or visit www.streamlinesystems.info .
Call today for a free, no-obligation demonstration on (01626) 830830.
RELATED ARTICLES
No related articles listed
OTHER ARTICLES IN THIS SECTION