Home
>
Disposables makes move to add customer value
ARTICLE
Disposables makes move to add customer value
03 July 2013
A move to larger premises will give Disposables UK room to manoeuvre…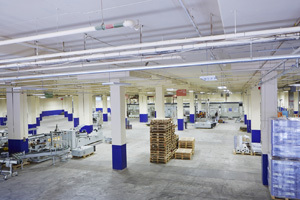 Disposables UK Group, which supplies cleaning and hygiene products to the away-from-home market, will move to larger premises and invest £1.7m in new machinery as part of its ambitious five-year growth plans. Previously spread across four sites totalling 107,000 sq ft which included manufacturing, distribution and administration, it has consolidated its operations onto one 150,000 sq ft site.
Due for completion in mid-July, the move brings many business advantages and will allow Disposables to streamline its processes, including a faster turnaround time on producing and delivering goods, enabling the company to provide even better customer service. A new fully automated production and packaging line will enable Disposables to manufacture quality products at prices to meet current and future market demands.
The move, expected to cost around £700,000, is being undertaken in phases. Phase one, the relocation of the distribution centre from its existing site, was completed in March. This was followed by the staged move of production machinery into its new environment, with the relocation of 'goods in' and raw materials following in May. In this way, Disposables has ensured customers are successfully serviced throughout the move period and that delivery deadlines are met, with no loss of the excellent customer service for which Disposables is renowned.
In line with the company's ethos of sustainability and the environment, the new site has undergone a complete refurbishment and has been designed to be eco-friendly. The 7,500 sq ft modern office facilities will include a state-of-the-art reception, offices, training room, and product display areas. The manufacturing facility has been fully refitted with energy efficient lighting in an area comprising goods inwards, production and finished product areas totalling 140,000 sq ft. Lighting technology comprises high frequency, low energy usage lights with built-in presence detectors, which allow the lights only to operate when required, switching to reduced levels when not needed, so reducing the overall carbon footprint.
Commenting on the move, Paul Halliwell, sales director, said: "The move will have a really positive effect in terms of us being able to offer our customers an even more efficient service and an enhanced product offering. Disposables has always been an innovator and the new machinery is allowing us to push that even further. We're operating in a highly competitive market, and we're now in a position to compete at every level with a top quality offer that meets all our customers' needs whether they are looking for affordability or value for money luxury".
Last year the company added new product lines to its Optimum Professional range with the launch of the OptiSilk range of micro-embossed, laminated, luxury toilet tissue. With new luxury products due to be added to its Bay West range and more innovative products planned, it aims to double its current £16m turnover to £30m by 2018.
In 2012 Disposables UK Group was awarded the contract to supply the Bay West range of products to certain areas at the Olympic and Paralympic Games and has recently won contracts with the South Yorkshire Fire Service, and the Scottish Exhibition and Conference Centre.
RELATED ARTICLES
No related articles listed
OTHER ARTICLES IN THIS SECTION