ARTICLE
Pressure washer makes a splash at marina
30 August 2018
Tim Coghlan is the managing director of Braunston Marina Limited, a well established canal narrowboat marina located at the crossroads of the Grand Union and Oxford canals in Northamptonshire.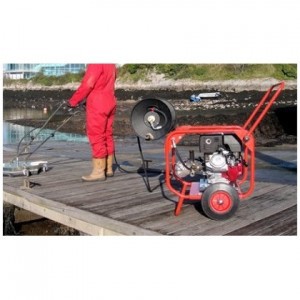 Braunston Marina is a major centre for leisure craft and narrowboats, with modern mooring facilities for 250 boats and over two miles of wooden pontoons that need to be maintained.
Tim and his team needed a high performance, industrial strength pressure washer to clean the decked piers in and around the boat moorings allowing safe access for the marina's many visitors and residents. With mature trees surrounding the Marina's two basins, there is quite a large build up of algae and moss on the pontoons during the winter months, which with traditional pressure washers, were slow and messy to clean, and required moored boats to be moved away from them whilst this was being done.
Tim spotted an advertisement for the Hurricane Combi industrial pressure washer range and contacted Clemas & Co, a family run business based in Tewkesbury.
Tom from the Clemas sales team took the call. He said: "We discussed how the pressure washer would be used and what it was going to clean. Once I had all the necessary information we considered two Hurricane Combi industrial pressure washer options, these were the P2 and the larger P4 model. These industrial cleaning machines were chosen based on the manoeuvrability, physical widths and weight of the two machines. I discussed with Tim the pros and cons between the petrol and LPG for the Hurricane P2. Both models were quoted competitively and following this Tim promptly requested a free of charge demonstration for the following week."
The rotary twin jet system of the Hurricane Combi range is designed to clean these types of applications and in addition is supplied frequently to customers wishing to clean large floor areas such as pavements, driveways, sports grounds and yards. The spinning arms turn at 2000rpm with the jets just millimetres from the floor surface ensuring an efficient and impressive cleaning performance. The Hurricane P4 Combi has the added advantage of a standard lance and hose attachment for conventional pressure washer use too, just select which system you wish to use by the lever and the water flow will be directed to one or the other depending on your application.
Tom visited Braunston Marina and a demonstration of the larger Hurricane P4 was received very well by Tim and his colleagues. The machine's rotary twin jets soon removed the surface and engrained soiling but most importantly cleaned the algae and moss removing the potential trip hazard. It was decided that due to the widths of the narrow pontoons the smaller P2 model would be more than sufficient and this would be the machine of choice.
The order for a Hurricane P2 Combi pressure washer was received within 24 hours of demonstration. After a few weeks of use, Tim emailed Clemas & Co to say: "Just a quick note to say how brilliantly the Combi Pressure Washer is working. It really has revolutionised our pontoon maintenance, doing the job in a third of the time. Our moorers are full of praise too."
OTHER ARTICLES IN THIS SECTION