LATEST NEWS
Industry comes together to produce first National Recycling Guidelines
19 October 2016
For the first time recyclers, local authorities and waste management companies have come together to produce a definitive list of what can and cannot be accepted for recycling at the kerbside. The Recycling Guidelines, developed by WRAP with industry, aim to make it easier for households to recycle more – more effectively across the whole of the UK.
[Read More]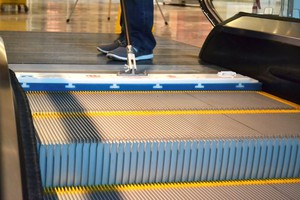 17 October 2016
​Building managers need no longer compromise on escalator cleaning following the UK launch of a low cost and highly effective manual cleaning system. [Read More]
SPONSORED CONTENT
Selecting the right Scrubber Dryer can be a confusing choice with a long list of options. To make things easier here's five factors to consider when selecting a compact battery scrubber dryer. [Read More]

More Sponsored Content
HOT TOPIC
Recycling and waste management is moving up the agenda in the cleaning sector, with companies increasingly being expected to demonstrate sustainable working practices both in terms of service delivery and supply chain.
[Read More]
LATEST VIDEOS
INDUSTRY UPDATE