LATEST NEWS
Winners of BICSc Annual Awards 2016 announced
29 September 2016
More than 200 cleaning industry professionals and their guests gathered to celebrate excellence in training and accreditation in the cleaning profession on 15th September at the BICSc (British Institute of Cleaning Science) Annual Awards 2016 ceremony.
[Read More]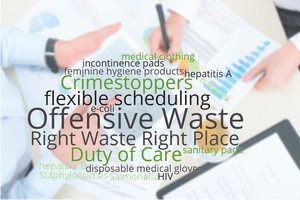 27 September 2016
The level of pro-active engagement in business waste is improving but more needs to be done to raise awareness amongst SMEs about offensive waste rules and the penalties of non-compliance, argues washroom hygiene service provider ABC hygiene [Read More]
SPONSORED CONTENT
Selecting the right Scrubber Dryer can be a confusing choice with a long list of options. To make things easier here's five factors to consider when selecting a compact battery scrubber dryer. [Read More]

More Sponsored Content
HOT TOPIC
Recycling and waste management is moving up the agenda in the cleaning sector, with companies increasingly being expected to demonstrate sustainable working practices both in terms of service delivery and supply chain.
[Read More]
LATEST VIDEOS
INDUSTRY UPDATE