LATEST NEWS
Keynote speakers to deliver heavyweight debates at RWM 2017
16 August 2017
After a year of dramatic political, social and environmental changes, RWM 2017 is promising meaningful debate over the policies and strategies impacting the Energy, Renewables and Water industries by senior figures from across the public and private sectors.
[Read More]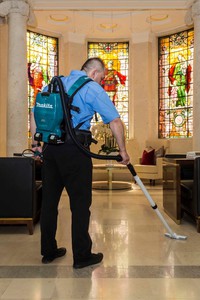 16 August 2017
Makita back-pack vacuum cleaners are now part of the inventory of Enhance Office Cleaning in Bromley, Kent. The specialist commercial cleaning company serves primarily the Central London area, and its contracts include prestigious financial and legal firms and charities. [Read More]
SPONSORED CONTENT
OxyBAC is a new rich-cream foam antibacterial hand wash that combines Deb Foam Technology™ with Accelerated Hydrogen Peroxide antimicrobial agent to provide unique benefits compared with all other antibacterial hand wash products. [Read More]

More Sponsored Content
HOT TOPIC
Creating a safe and healthy environment through cleaning is always important – but when that's in a food area, the demands are even higher. The UK has more than 500,000 reported cases of food poisoning each year with cross contamination one of the most common causes. With risks to public health significant, the application of proper cleaning knowledge is essential.
[Read More]