German Innovation Award winner
22 June 2018
At the prize-giving ceremony for the first German Innovation Award on 6th June 2018 in Berlin, GELITA AG was awarded gold for its detergent additive NOVOTEC CB800.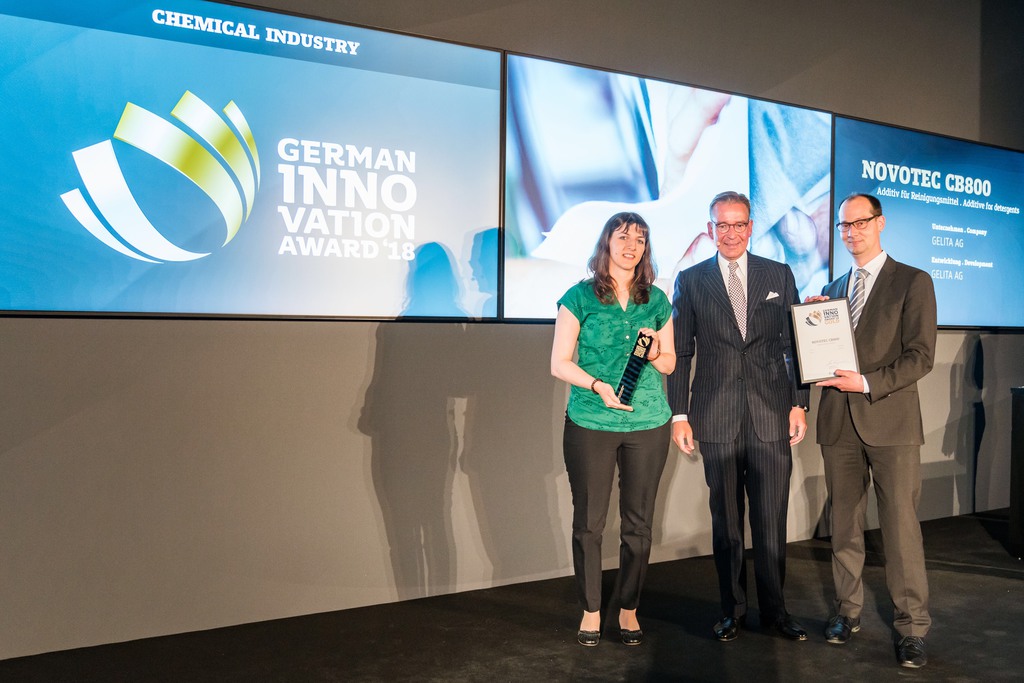 The jury was particularly impressed with how the surface protecting product offers a highly effective and environmentally friendly solution for industrial cleaning.
As one of the leading manufacturers of collagen proteins, GELITA AG is said to be one of the leading innovators among German small to medium-sized companies. The Eberbach company fosters a holistic culture of innovation in which each of the 2,500 employees worldwide can and should contribute their ideas and suggestions.
"Continuous innovations in all areas of business are our driving force and an essential part of our sustainable success," said Michael Teppner, head of marketing and communication at GELITA AG, at the presentation of the award in the Berlin Museum of Technology.
The group received a gold award in the "Excellence in Business to Business (B2B)" category in the section "Chemical Industry" for its detergent additive NOVOTEC CB800.

The functional NOVOTEC proteins are added to water-based cleaning formulations. They form robust, water-attracting protective coatings on many surfaces. In contrast to the well-known lotus effect, for example, which repels water but allows water-insoluble dirt to stick to the surface, particles of dirt float on the protein film and are simply washed away on contact with water. This produces a self-cleaning effect, which prolongs cleaning intervals.
GELITA's product is said to be so effective that it greatly extends the cleaning cycle, saving water, energy and time and thus costs. NOVOTEC CB800 is free of aggressive chemicals, skin-friendly and biodegradable.
MORE FROM THIS COMPANY
No related articles listed
OTHER ARTICLES IN THIS SECTION