Evolving range
11 April 2018
SEBO says it has evolved the professional design of its Evolution range of vacuum cleaners to ensure they offer an efficient and effective service. The Evolution range comprises the Evolution 300, Evolution 350 and Evolution 450 which offer working brush widths of 30cm, 35cm and 45cm respectively.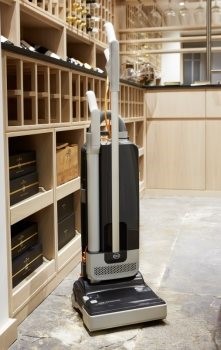 Fulfilling the requirements of the European Ecodesign Directive for vacuum cleaners, the Evolution range offers innovative features within remodeled upright vacuum cleaners. With a light handle weight for smooth manoeuvrability, this machine also cleans flat to the floor and offers a powerful 890W suction that ensures excellent cleaning results.
The sophisticated design of the Evolution range also includes a convenient wand and integrated suction hose for hard-to-reach-areas. The hose can also be used on typical above-the-floor items such as furniture that collects dust and dirt using the built-in tools. The brush can be adjusted by using the foot or telescopic tube to four different heights depending on the floor surface. If the brush of the SEBO Evolution is obstructed, the machine turns off automatically and a red indicator gives notification of a problem.
With an sturdy foot pedal, thoughtfully placed ergonomic carry handles and quick access to all extra tools, the Evolution range is ideal for anyone to use in all commercial environments.
OTHER ARTICLES IN THIS SECTION