Acid and stain-resistant marble treatment
24 October 2017
Marble is said to be the most highly-used stone in construction: its aesthetics, veins, delicate colours and unique brightness make it one of the most sought-after materials for covering various types of surfaces.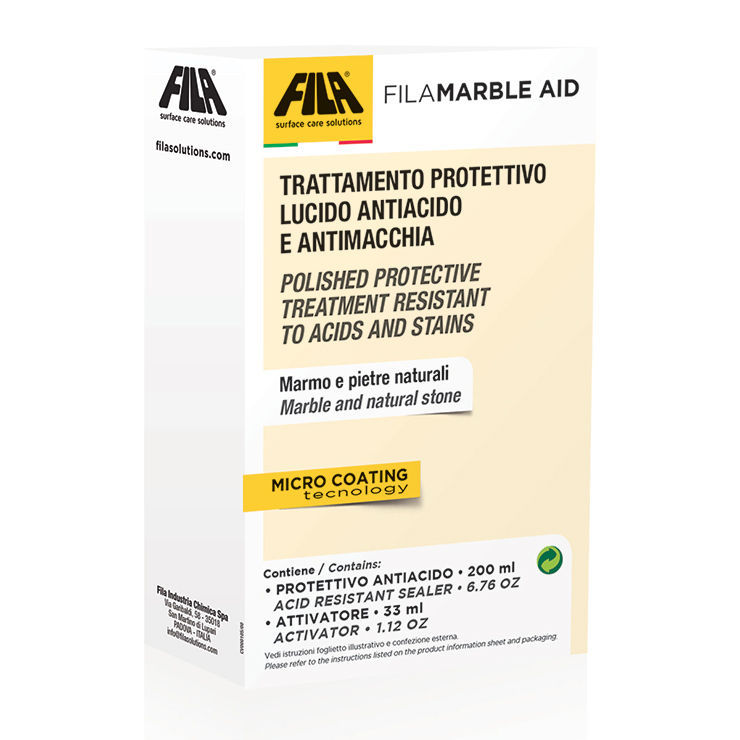 Kitchen and bathroom worktops are naturally more exposed to acidic substances, which corrode the polished finish, leaving the surface looking dull and deteriorated. To make the most of the aesthetic qualities of this material, with total peace of mind, FILA Surface Care Solutions has developed FILAMARBLE AID, the acid and stain-resistant protective agent with a polished finish – suitable for marble and natural stone worktops.
FILAMARBLE AID provides high acid and stain resistance for delicate surfaces subject to daily wear and tear, such as tables and areas that are frequently in contact with food or acidic substances. Its technical properties mean that it is very safe and suitable for contact with food stuffs. It can be used on both new and pre-treated materials, including outdoor surfaces, as it is resistant to UV rays and thermal shocks.
The FILA treatment is based on Micro Coating Technology, whereby it generates a thin coating that can withstand acid exposure and absorption of dirt. It does not discolour or go yellow with age or sun exposure; it also gives the treated surface a highly polished finish, improving on the gloss of untreated materials.
FILAMARBLE AID is a water-based bi-component product, made up of an activator and acid-resistant protector. It is easy to apply and can be easily removed and restored when the film on the worktop looks worn, and can be easily reapplied.
In the event of contact with staining agents, FILAMARBLE AID protects the surface from acid and stains, without damaging the material or showing visible changes.
This FILA product protects both the environment and people, in full compliance with VOC regulations (Volatile Organic Compounds): the new low-VOC acid and stain protector helps to create safe living and working conditions.
OTHER ARTICLES IN THIS SECTION