Changing the way we think about rubbish
13 September 2017
The worldwide production of plastic has increased twenty times over the past fifty years. Currently 311 million tons of plastic is produced each year.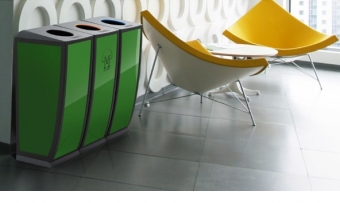 Plastic production is expected to even double within the next twenty years. Only 5 per cent of the plastic is recycled, the rest ends up at dumps, in incinerators, or in the sea. If this development continues, there will be as much plastic in the sea in 2050 as there are fish. which means that change is not an option but an absolute necessity.
As partner of MushBIN, All Care B.V. has accepted the challenge to correctly collect all waste flows from every office and to process these into new raw materials. It is the company's mission to achieve a completely waste circular business world. Through this mission it wishes to counteract the waste in material flows.
All Care B.V. supplies waste bins made of 100% recycled material in order to accommodate the easy, fun and efficient separation of waste within organisations.
Furthermore, the company wishes to centralise the placement of waste bins which would result in fewer waste bins and more waste separation.
The waste bins are made using the users' very own waste. Additional services and products can be incorporated such as an Internet of Things, an Interaction Module and personalisation options.
OTHER ARTICLES IN THIS SECTION