Investment in mop technology
21 September 2017
Specialist cleaning contractor Hygiene Group has announced plans to phase out the traditional mop and bucket from all its operations following a significant investment in the new 'i-mop'.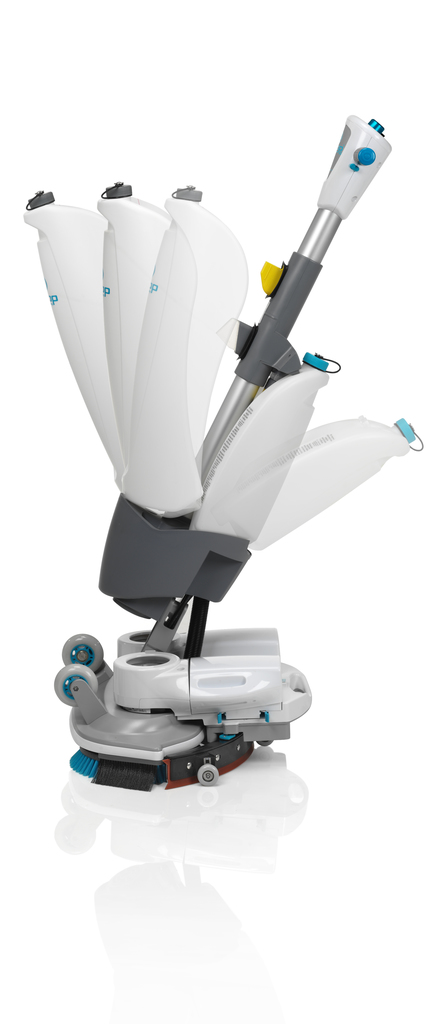 The Dutch born i-mop has proven itself to be a successful replacement for traditional mopping, thanks to many benefits including enhanced productivity and reduced contamination and waste.
Hygiene Group, whose customers include Unilever, Intersnack and Bakkavor, have already invested more than £150,000 in the new technology, with plans to invest the same amount over the next three years.
In contrast to a traditional string mop, the i-mop is a full-size scrubber dryer deck with the flexibility of a flat mop. Weighing just 40 lbs, it can be operated single-handedly and deliver robust cleaning solutions through specially designed high-performance scrubbing brushes, followed by a powerful vacuum drying system.
The i-mop uses different tanks for different chemicals and separate tanks for clean and recovered water. Unlike more traditional mops this method of water collection and dispersion is an extremely efficient way to clean, leaving little room for error. Not only does it help reduce contamination by ensuring the clean water doesn't get polluted with dirt, it also saves valuable man hours as the water doesn't have to be changed mid-clean.
Effective cleaning can be effortlessly undertaken on any floor type and even in tight and congested areas, as the cordless i-mop has a 360-degree turning circle, thanks to innovative ball and socket hinge technology.
Steve Bailey, MD at Hygiene Group, said: "Failure to achieve the highest standards of cleanliness may endanger products, staff, reputation, revenue and public health, which is why reputable facilities take great care over their hygiene management. As an early UK adopter of the i-mop we are therefore proud to be investing in game-changing cleaning technology that has been perfectly engineered to ensure our customers can effortlessly achieve these standards through even cleaner, safer and more hygienic floors."
OTHER ARTICLES IN THIS SECTION