ISO 14001 accreditation
11 August 2017
Star Platforms Ltd the UK based powered access rental company have achieved the accreditation of ISO 14001 2015.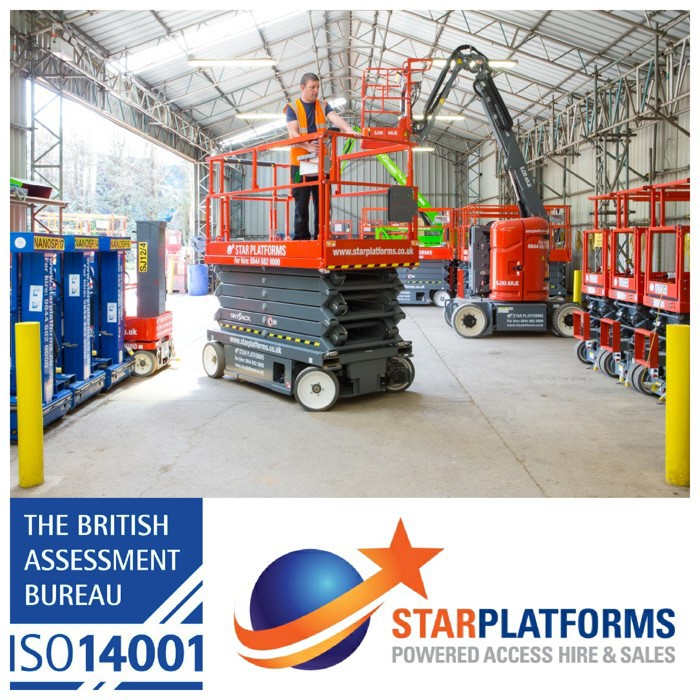 ISO 14001 is an internationally agreed standard that sets out the requirements for an Environmental Management System. It will help Star Platforms improve their environmental performance through more efficient use of resources and reduction of waste whilst gaining a competitive advantage.
The standard includes the need for continual improvement of an organisation's systems and approach to environmental concerns. The standard has recently been revised (14001:2015) with key improvements such as the increased prominence of environmental management within strategic planning processes, greater input from leadership and a stronger commitment to proactive initiatives that boost environmental performance.
Ian Mitchell, Star Platforms' operations director, was responsible for overseeing the company's journey to the standard.
He said: "More and more of our customers were asking if we had ISO 14001 on their Pre-Qualifying Questionnaires (PQQs) and we felt it would align Star Platforms with our clients and prospects if we achieved this accreditation.
"We take pride in having excellent environmental controls and engagement from all our staff and therefore already had many of the key components in place to pass the audits and achieve this accreditation. Star Platforms are one of only a handful of privately owned powered access rental companies to have achieved ISO 14001 and considering we were only established in October 2014 it is something we are very proud of."
OTHER ARTICLES IN THIS SECTION