New website and product brochure
27 June 2017
Star Tissue UK, a leading manufacturer of hygiene paper products, has launched its new website and product brochure.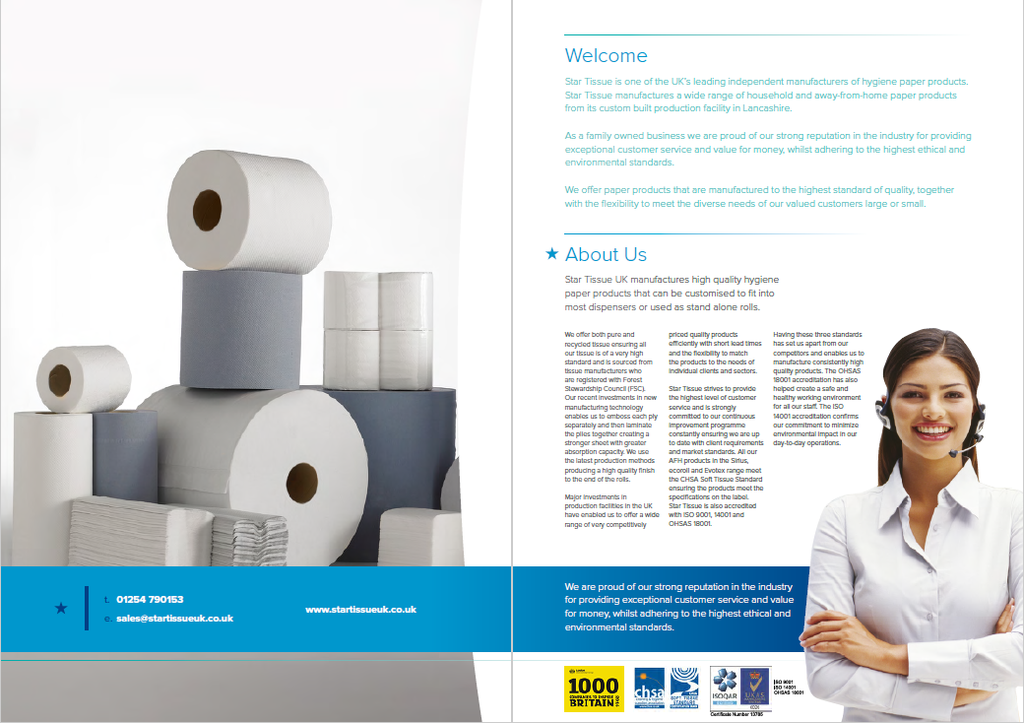 The Blackburn-based family-owned business has released a glossy brochure which showcases its range of away-from-home products and brands, all produced from its custom-built facility in Lancashire.
The brochure also includes details about the significant investments made by Star Tissue in its plant, machinery and systems. Star Tissue has four production lines with the capacity to manufacture 18,000 tonnes of hygiene paper products a year – which is over 1000 rolls per minute.
Alongside the brochure launch, Star Tissue has also unveiled its new website. With its fresh design and easy to navigate pages, it has all the information customers need to find out about the full range of products available and learn more about the business.
There are also plenty of details about logistics and the investment which Star Tissue has made in their warehouse operation, which is based in buildings covering 140,000 sq ft, with the capacity to hold over 4000 pallets of finished goods.
The website also has a web friendly version of the new brochure which is available for download, plus a link to the latest news stories featuring Star Tissue.
Khalid Saifullah, MD at Star Tissue UK, said: "We are delighted to launch our new website and product brochure. We hope that both the website and brochure will help us build on our trend of growth."
Star Tissue aspires to be a company to turn to when it comes to the delivery of high-quality products at a cost-effective price.
Khalid hopes this strength will reap the benefits over the coming years with upcoming challenges such as price pressures, Brexit and consolidation in the market.
OTHER ARTICLES IN THIS SECTION