Super-efficient one pass cleaning
17 October 2016
According to Sebo, one pass cleaning — using an upright vacuum cleaner to thoroughly clean a floor using a series of parallel sweeps rather like mowing a lawn – hugely improves productivity.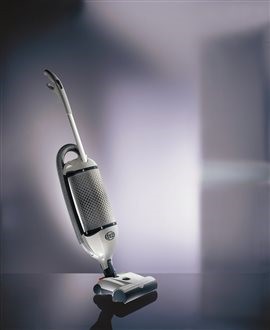 The rotating brush adds mechanical cleaning to suction power, improving pick up of fibre, hair and heavy particles. It also grooms carpet pile for a visible enhancement.
SEBO's professional range of upright vacuum cleaners has been developed to suit all commercial environments where time and cost efficiencies are obviously key. The ability to perform one pass vacuuming is the inherent feature of an upright model as opposed to a cylinder. The essence of vacuuming is the combination of energy and mechanical action. With an upright, the operator need only guide the machine along the floorcovering at a normal pace - once. The machine does the work quickly and so the job is completed efficiently with resultant cost and time savings.
SEBO's upright range includes the BS 36 and BS 46 Comfort, the DART, the Evolution range and UHS polisher.
The SEBO DART is suited to a wide variety of floorcoverings and is easy to manoeuvre around stools and tables. With its powerful brush action, it offers a thorough, professional quality one pass pick-up.
The SEBO BS 36 and BS 46 Comfort upright vacuum cleaners, each with a 175W brush motor, provide impressive performance, reliability and are easy to maintain. The comfortable handle grip and low handle weight allow for easy, efficient movement.
Lastly, The SEBO Evolution is designed to establish benchmarks in durability and usability and is available in three models - 300, 350 and 450 - which offer working widths of 30cm, 36cm and 46cm.
OTHER ARTICLES IN THIS SECTION