Wash salad advice after E.coli outbreak
24 August 2016
Following a recent outbreak of E. coli, consumers are being reminded to thoroughly wash salad leaves before eating.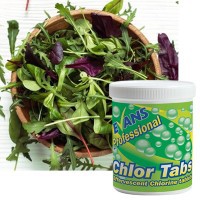 Public Health England is still working to establish the cause but, amid concern that mixed salad leaves could be the source, they are encouraging people to follow the advice given.

Chlor Tabs and Veggisan, effervescent chlorine tablets from Evans Vanodine International, are both suitable to use for the purpose of disinfection of salads, vegetables and non-peelable fruits.
Ideal for general cleaning, disinfecting and washing vegetables, Chlor Tabs and Veggisan kill bacteria, fungi, viruses and spores. They are both fast dissolving and are said to be safer to handle and transport than liquid hypochlorite. Each Chlor Tabs tablet produces 200ppm chlorine in 5lt of water. Each Veggisan tablet produces 100ppm chlorine in 10lt of water.
OTHER ARTICLES IN THIS SECTION