Grammar school installs warewasher
17 June 2016
Manchester Grammar School is the UK's largest independent day school for boys, with 1,600 pupils and 250 staff.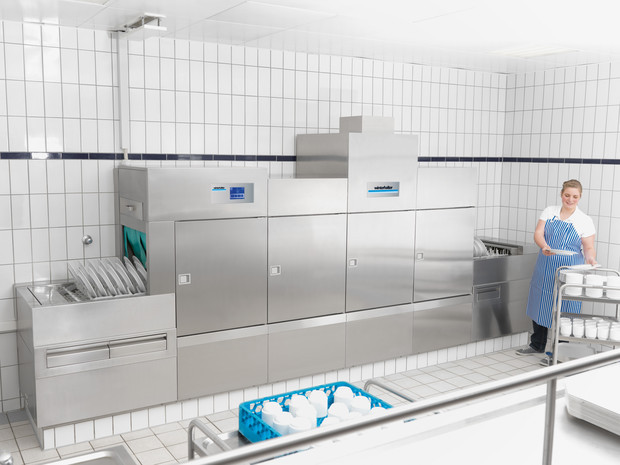 There's a lot of pressure on the school's warewashing system, especially at lunch time, when several thousand pieces need to be washed and sorted in a short time. Recently the school installed a Winterhalter multi-tank flight conveyer warewasher system. The Winterhalter, model number MTF 3-2800, has four interconnected chambers or tanks, comprising a pre-wash zone, main wash zone, rinse zone and drying zone.
"Our 11-year-old machine, which wasn't a Winterhalter, wasn't up to scratch anymore," explains catering manager Richard Palombella. "We expected the results from the Winterhalter to be good and they are. It's also very fast, much faster than the old system, which is essential at lunchtimes."
The MTF has a theoretical capacity of up to 2,800 plates per hour, on the rapid programme, or 2,400 on the standard programme.
Sustainability is important for Manchester Grammar School, and the MTF is loaded with energy- and water-saving features. For example, the optimised rinse system reduces fresh water consumption by up to 30%. The drying zone uses a special technology developed by Winterhalter that not only reduces the machine's connected load but also cuts energy consumption by up to 33%. It also does a better drying job than conventional systems.
The Winterhalter's control panel features clear symbols and animations, which are language-neutral, so even untrained staff with limited English can operate it. "In fact, a key reason for choosing the new machine is the way the doors open into each zone, for ease of access and cleaning," says Richard.
The Winterhalter has brought another benefit – it's kept the kitchen in hot water. "We had a problem with our supply, so much so that the kitchen kept running out of hot water," says Richard. "We thought we'd have to install and extra boiler to cope. However, the Winterhalter has a cold water fill, which has really helped us, and it still uses less energy than the old machine. So we're saving costs, we don't need to worry about an extra boiler and we have plenty of hot water."
OTHER ARTICLES IN THIS SECTION