Beat carpet contaminants
15 October 2015
British workers could potentially be at risk of respiratory issues, skin irritation and allergies from dust, bugs and bacteria lurking in dirty workplace carpets say safety experts Arco.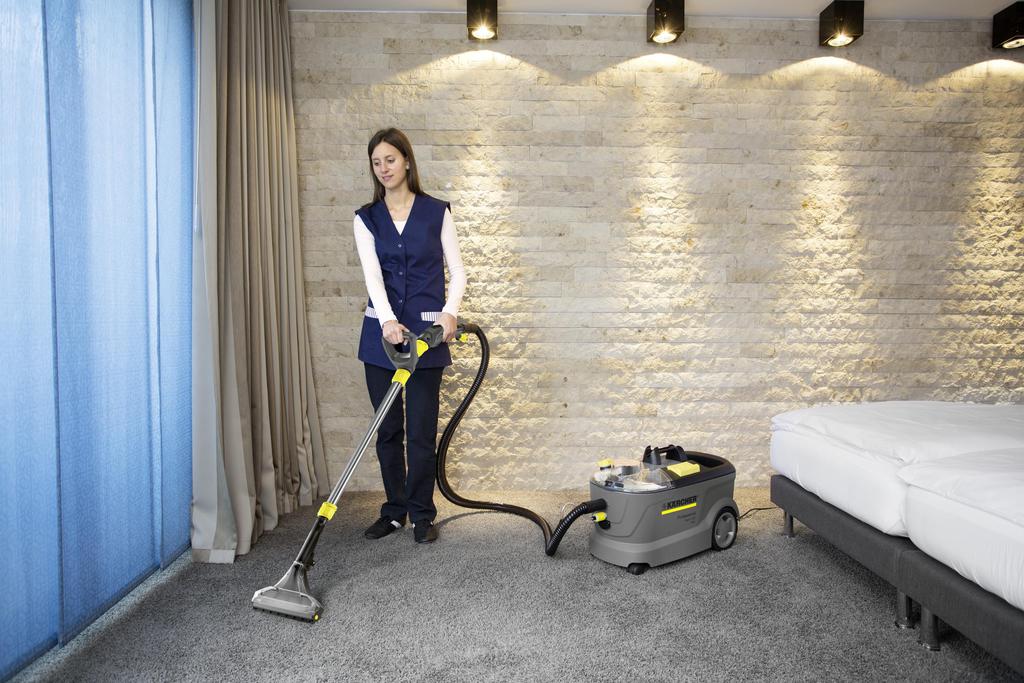 In 2013/14 alone, 403,000 working days were lost due to work-related breathing or lung problems and an estimated 10,000 new cases recorded which were caused or made worse by work. To help combat this, the company is expanding its cleaning and hygiene offering with a range of vacuums with HEPA filters, carpet cleaners and steam cleaners.
Vacuums that utilise High Efficiency Particulate Air (HEPA) filters can trap 99.97% of all airborne particulates including dust, smoke, mould, bacteria and pollen larger than 0.3 microns.
Jeff Snee, product & procurement manager - material management, said: "When we think of potential hazards in the workplace, carpet is probably the last thing on our minds. However, if they are not cleaned and properly maintained on a regular basis, carpets can cause significant health risks. Arco's experts are here to give advice and guidance to those responsible for workplace cleaning and can recommend the most suitable solution for your office or building."
Arco recommends four models from manufacturers Nilfisk, Karcher and Vax. Rated A overall for energy efficiency at just 26.6kWh/annum, the Vax Commercial Vcc-08A 800W tub vacuum is a lightweight machine that doesn't topple, has an A-rated filtration system and its lower noise HUSH mode makes it suitable for daytime office cleaning.
Quiet but powerful; the Karcher T12/1 Eco Efficiency Vacuum Cleaner reduces energy consumption by 40% compared with the standard model, without compromising on daily cleaning performance. Its low 65 db(A) noise levels combined with a 750W motor make this vacuum an excellent all round performer.
From Nilfisk, there is the lightweight GD 5/10 Back Pack vacuum cleaner designed for operator comfort, reducing fatigue, and the Nilfisk-Alto Saltix 10 tub vacuum which has a very high filling capacity suitable for commercial use.
Another essential tool is the carpet cleaner which reaches deep down into carpet fibres removing dirt, germs, dust mites and fleas with the use of special shampoos and high-power vacuums. Arco has four models from the Karcher Puzzi range; the 8/1C, 10/1, 10/2 and the 30/15. From the compact 8/1C unit which is suitable for upholstery cleaning and spot cleaning of carpeted floors, to the BRC 30/15 Spray Extraction Carpet Cleaner for much larger areas of deep cleaning, Arco supplies a solution to fit any need or budget.
Utilising an internal boiler to heat water to a working temperature of 140°C to generate steam, Karcher's range of steam cleaners sanitise surfaces killing up to 99.9% of potentially harmful bacteria and germs. The new Karcher SGV 6/5 and 8/5 Steam Generating Vacuum Cleaners allow steam to be applied and water to be vacuumed in a single operation and feature a chemical function for dissolving stubborn dirt using chemicals. Both also feature a self-cleaning mode for cleaning hoses, pumps and pipes. The 8/5 features an 8bar steam pressure, whereas the 6/5 features a 6bar.
OTHER ARTICLES IN THIS SECTION