New formulation disinfectant kills bacteria in 30 seconds
10 September 2015
As part of Evans Vanodine's continued effort to provide the most efficient and effective products, the company is pleased to introduce a new formulation of PROTECT disinfectant cleaner.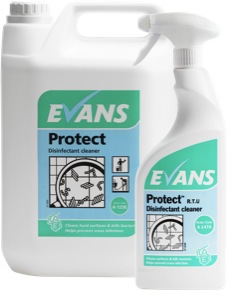 PROTECT is a multi-purpose, perfumed, liquid disinfectant cleaner, formulated to remove general soil and kill bacteria in one operation. It is ideal for use in schools, hospitals, nursing homes, sports clubs and wherever surfaces may be contaminated with harmful bacteria.
The product has been tested under European test method EN 1276 and has now been proven to kill a wider range of bacteria in a quicker time. Many products currently on the market offer a pass rate under EN 1276, but often under clean conditions with a 5 minute contact time. Evans identified this is not typical of how a disinfectant would be used in the care industry, so they reviewed the formulation to achieve a reduced contact time of 30 seconds, whilst retaining the same dilution rate.
PROTECT will kill E coli, Enterococcus hirae, Pseudomonas aeruginosa and Staphylococcus aureus under dirty conditions, at a dilution rate of 1:25 with a 30 second contact time. It will also kill the following under dirty conditions at varying dilution rates: MRSA; Salmonella; Shigella (the cause of Dysentery); Legionella (for disinfecting shower heads).
OTHER ARTICLES IN THIS SECTION