Ultra-concentrates pass the college test
25 August 2015
Petroc, the largest college in Devon, has reduced costs, simplified processes and enhanced safety by standardising on ultra-concentrates in the QuattroSelect dilution control platform from Diversey Care for the preparation of daily cleaning solutions used by its building care teams.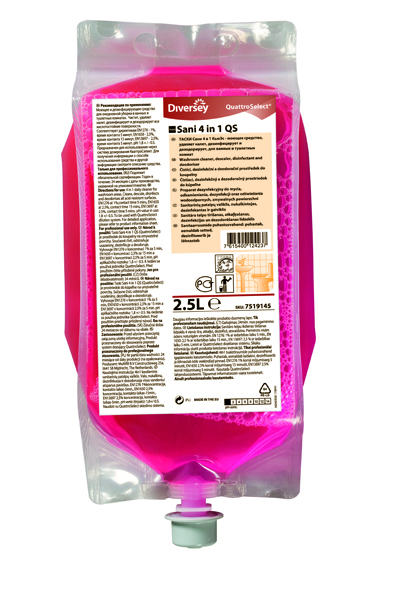 "We've installed QuattroSelect throughout the college and it's helped us reduce our budgets on cleaning products as well as making our processes simpler and safer," says Dave Bedson, premises manager at Petroc.
With more than 4000 students Petroc offers a range of courses and qualifications, from A Levels to apprenticeships and vocational training to degree programmes, at campuses in Barnstable and Tiverton. Like any busy environment with a large number classrooms, offices, open areas and washrooms, building care presents a significant challenge.
"When I joined the college the teams were sourcing cleaning products from a variety of suppliers," says Bedson. "Processes were inconsistent and inefficient with very little compliance and the team members were trying to learn about too many different products. I knew that we could make improvements."
After making contact with Diversey's local territory sales manager Ali Wilmot through distributor Alliance, Dave Bedson discussed and assessed the various options before deciding on ultra-concentrates in the QuattroSelect dilution control platform. The system has since been installed in every cleaning cupboard throughout the college.
Suitable for larger sites with centralised cleaning operations, QuattroSelect allows up to four cleaning products to be prepared in different dilution rates and speeds to fill any combination of spray bottles, buckets and cleaning machines. Products are supplied in sealed colour-coded pouches that are placed inside a slim-line wall cabinet containing the dilution controls and dispensing tools. Installation is simply a matter of connecting the cabinet to an available water supply. The system ensures solutions are always automatically prepared at the correct dilution for high performance with no waste or repeat cleaning.
"We have saved money because there is no under or over-dilution," says Bedson. "It's much quicker to fill up the containers and only takes a couple of seconds."
Ultra concentrates are also sustainable, Diversey says. One pouch of QuattroSelect floor cleaner prepares 1250 litres of ready-to-use solution. This can reduce chemical consumption by 99%, plastics consumed by 99%, packaging used by 90%, and CO2 emissions by 99% compared with two five-litre conventional products in standard packaging. Because the pouches and cabinet create a secure and closed system there is no risk of building care team members coming into contact with undiluted product which helps to promote simplicity and safety in use.
"It has improved health and safety because there is no risk of spillages," says Bedson. "Pouches are self-contained and everything is managed by the water feed. It's completely safe."
Although a wide range of building care products is available for use with QuattroSelect the college has standardised on just four covering all daily cleaning tasks: TASKI Sani Des daily washroom cleaner and disinfectant; TASKI Sprint 200 multipurpose hard surface cleaner; TASKI Jontec 300 low-foaming floor cleaner; TASKI Sprint Glass Cleaner for washable surfaces including glass, chrome, stainless steel and laminate countertops. These are dispensed by QuattroSelect into spray bottles or directly into buckets for wet-mop floor cleaning.
OTHER ARTICLES IN THIS SECTION