Home
>
BPI Recycled Products helps inspire a generation as it sponsors schools and student categories in Starpack Awards 2014
BPI Recycled Products helps inspire a generation as it sponsors schools and student categories in Starpack Awards 2014
27 January 2015
BPI RP has sponsored two young people's categories in the annual Starpack awards which celebrate innovative ideas in packaging design and technology.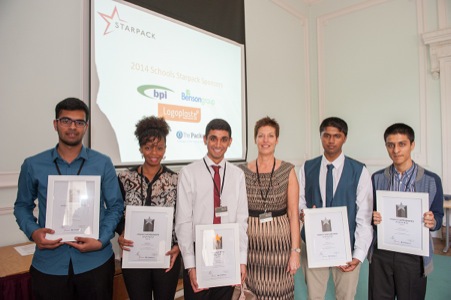 Recycling giant bpi.recycled products was seeking the next generation of inventors as it weighed up prototypes for a child's Car Tidy and a reusable festival pack at the annual Starpack Awards.
The company this year sponsored a category in the Schools Starpack Awards which took place in central London on 25 June 2014 as well as the Student Starpack Awards, which were presented on 30 September 2014.
External affairs director Mike Baxter says bpi.recycled products has an ongoing commitment to supporting the learning and development of students and to the Starpack Awards. "We were delighted by the high standard of emerging young talent and the thought and detail students displayed in their entries. We are keen to play a part in inspiring young people and encouraging them to use their imaginations to develop a business idea from concept to creation."
The Schools Starpack Packaging Design Awards, now in their thirteenth year, set out to encourage students to take up a career in the exciting world of consumer packaging design.
The winner in bpi.recycled products Schools category was Charles Baggott of Bungay High School in Suffolk who created a Snakes and Ladders design Car Tidy. This was described as: "Simple but very practical, a good concept which has been translated into an effective sample with production potential".
The Student Starpack competition, which was established in 1964, challenges students from a wide range of courses, to challenge conventional thinking as they submit solutions to problems set by brand leading FMCG companies, design agencies, and manufacturers – and win recognition of their excellence.
In the bpi.recycled products Student Category Venla Haverinen of Lahti University of Applied Sciences in Finland created a multi-purpose re-usable festival kit, described by judges as "a potentially practical product which could be mass produced."
bpi.recycled products is no stranger to innovation in technology in its own business, the award-winning environmental pioneer recycles its own production and packaging waste as well as that of its customers through closed loop recycling schemes.
RELATED ARTICLES
No related articles listed
OTHER ARTICLES IN THIS SECTION