Bpi invests in Bi-Modal sack production for councils
24 October 2014
Bpi.recycled products (BPI RP) has invested in new state-of-the-art machinery in order to facilitate the production of its new Bi-Modal recycling sacks, which take the brand name Synthesene.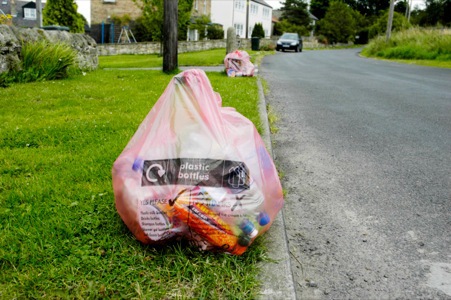 Designed for local authorities to use as part of their kerbside collection schemes, Bpi's latest investment enables the collection of recycling waste such as paper, cans and plastics.
Bi-Modal polythene is manufactured from two different polymer chain lengths: short chain polymers, which make it easier to process, and long chain polymers, which make the film tougher. It is therefore possible for manufacturers to down-gauge materials by up to 50% compared with low-density films - without compromising performance. This means considerable cost savings can be passed on to local authorities.
Bi-Modal polythene was originally developed for cold temperature applications, such as frozen foods, where its superior toughness is a key benefit. However, BPI RP has now created a new Bi-Modal polythene sack suitable for use by local authorities in their kerbside collection recycling schemes.
BPI RP unveiled the new Synthesene Bi-Modal recycling sack at the RWM trade show, which took place at Birmingham's NEC on 16-18 September 2014.
Lorcan Mekitarian, commercial director at BPI RP, said: "We use considerably less materials in our new Synthesene Bi-Modal recycling sacks, which means local authorities will be able to save significant amounts of money compared with their existing sacks. The combination of two different polymer chain lengths provides a fantastic double benefit for local authorities who are looking to make cost savings whilst also providing a high performance, reliable product."
Lorcan added: "Our passion at BPI RP is to channel our technical expertise into developing cutting-edge solutions that will save our customers money and at the same time deliver on performance. Our new Synthesene Bi-Modal sacks are testament to our continual investment in new technology and our ongoing commitment to driving cost efficiencies for our customers through innovation."
OTHER ARTICLES IN THIS SECTION