Dry dust control
03 November 2014
The S30 Mid-size Ride-on Sweeper from Tennant Company provides indoor and outdoor sweeping performance with optimised dust control in both light and heavy dust applications using its patented SweepMax Plus cyclonic system.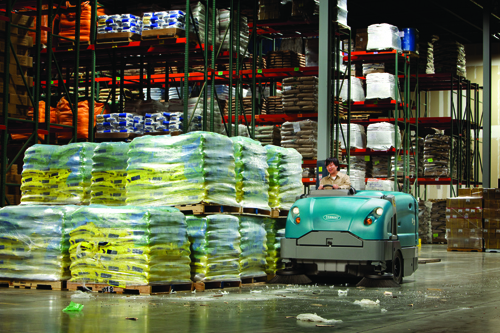 Engineered for reliable, industrial-strength sweeping of fine grains of sand to light debris, the S30 sweeps and cuts a clean path quickly, while maximising dust control.
"Capturing dusts in industries such as mining, mills and cement plants is a daily challenge for many of our customers," Rusty Zay, Tennant senior vice president of global marketing, said. "We're excited to offer an innovative industrial sweeping solution to help our customers in these challenging environments increase productivity, enhance the air quality for work sites and neighbouring areas, reduce the cost to clean, and deliver reliable and consistent performance."
The S30 mid-sized ride-on sweeper uses its 3-stage SweepMax Plus cyclonic system to control dust and efficiently sweep both indoor and outdoor spaces. The first stage typically removes 90% of particulates from the airstream and keeps bulky debris, moisture and dirt in the hopper. The second stage utilizes exclusive cyclonic filtration to remove up to approximately another 90% of fine dust and moisture preventing it from reaching the filter.
The third stage incorporates a canister filter that utilises the MERV 15 (Minimum Efficiency Reporting Value) rated Ultra-Web Nanofiber Technology, designed by the dust filtration experts at Donaldson Company, to enhance small particle filtration for further removal of dusts. The surface-loading Ultra-Web media allows for easier, more effective cleaning cycles to lengthen filter change-out and maintenance cycles.
"As a leading worldwide manufacturer of filtration systems, we know how important dust control is in helping reduce dust, fume and mist contaminants from the workplace," Sheila Peyraud, Donaldson V.P. & chief technology officer. "Our Ultra-Web MERV 15 filter is ideally suited for applications with heavy concentrations of dust or smaller particles. It makes sense to share that technology with Tennant Company to create a heavy-duty cleaning machine that delivers such a high level of filtration efficiency."
RELATED ARTICLES
No related articles listed
OTHER ARTICLES IN THIS SECTION