Need for speed
04 August 2014
Speed demons will love SEBO's UHS (ultra high-speed) polisher which keeps hard floors super sleek easily.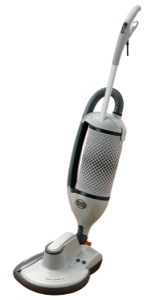 Hard floors are stylish yet keeping them looking good is not easy. Whether it's solid wood, marble, vinyl, linoleum or granite, hard floors are prone to dullness and scratches over time.
Now it is possible to maintain that 'just laid', high-gloss finish, with SEBO's innovative UHS polisher – an essential addition to its DART professional vacuum cleaner. Vacuuming and polishing as it goes, the UHS polisher removes fine dust particles before unleashing the full force of its ultra-efficient and super-quick polisher. The result is a spotlessly clean floor which makes an entire space appear light and bright – ideal for both domestic and commercial projects, including medical practices, hotels and department stores.
When used with a floor maintenance product, long-term use of the UHS polisher will build up a strong protective coating on the floor, sealing any scratches that would otherwise harbour dirt and moisture so leaving the floor brilliantly clean. Additional exciting benefits of the UHS DART polisher include automatic height adjustment to suit varied floor surfaces; flex neck for easy steering; suction duct which allows you to spot blockages quickly and easily; and automatic shut-off that uses smart technology to cut out the power in the event of a blockage.
Benefiting from the high quality construction and long-life components you would expect from SEBO, the global leader in commercial uprights, the UHS polisher will keep hard floors looking as good as new for years to come.
Designed specifically for use with SEBO's DART vacuum, the UHS polisher is an essential piece of kit for anyone who is serious about keeping hard floors hygienically clean and endlessly attractive.
OTHER ARTICLES IN THIS SECTION