Refuse sack specification made easy
01 October 2013
Whether it's for an office, shopping centre or large catering establishment, it's not always easy to know which size or type of refuse sack is needed for the job in hand.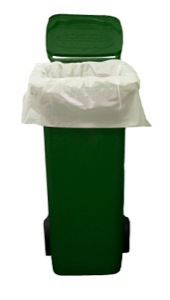 On the surface it may seem like a simple enough decision, but it's a choice that can have serious implications if you get it wrong. There's the unnecessary cost from over-specified products, or potential damage to customer relations if products don't perform and aren't fit for purpose.
To address this problem and to help simplify the specification process for our customers, bpi has put together a product selector guide, which is downloadable from its website www.thegreensack.co.uk
With a series of questions and flow charts the selector helps users choose the right refuse sack based on the waste's eventual destination (landfill or composting) as well the environment in which the sacks will be used. Further guidance is given on how to specify sacks that are the correct volume and the right grade to cope with the likely weight requirement.
As Europe's largest manufacturer of refuse sacks, bpi has a large range of products and can cater for pretty much any requirement. bpi's new product selector makes it easier for customers to navigate its wide portfolio and identify a solution that will offer the best performance and ultimately the best value.
OTHER ARTICLES IN THIS SECTION