Surfaces, suction and slippage
07 March 2013
Justin Binks director of SEBO UK, helps you choose the right vacuum cleaner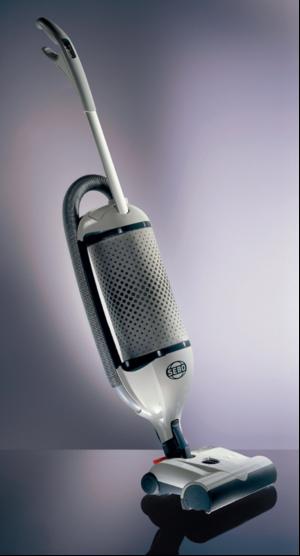 Justin Binks director of SEBO UK, helps you choose the right vacuum cleaner

Flooring in commercial premises is often a combination of both hard and textile. To tackle these surfaces, key tools include upright vacuum cleaners, cylinder vacuum cleaners and floor polishers. Choosing the most appropriate machine, and preferably one that can accommodate a variety of surfaces, is crucial as this will have an impact on the ease and quality of the clean, the time it takes, the comfort of the user and, ultimately, the labour costs involved.

Upright vacuum cleaners are available in a variety of brush widths - 30cm is generally regarded as offering a good all-round efficiency for smaller areas, and 36cm to 46cm for medium to large sized areas where high productivity with minimum effort is offered. As the rotating brush roller gives highly effective pick up, uprights can be used in a systematic way with overlapping one pass sweeps, saving considerably on time related costs. A major benefit of good quality uprights is manoeuvrability and controllability as they tend to be light and are easily pushed along - choosing a vacuum cleaner that is no more than 9kg in weight is highly beneficial for operatives.

Machines with strong suction and driven brushes are effective models for carpets as they groom and lift the pile to remove dirt.

Different height settings allow adjustment to different pile heights and constructions as well as auto shut-off, and electronic guidance for brush height ensures optimum cleaning and longer brush life.

Onboard hose and telescopic tube systems add to the overall cleaning flexibility of some upright machines, as do flexible suction necks which allow greater manoeuvrability; useful for smaller areas and getting around furniture.

Health and safety benefits include multiplelayer bags that seal in dust and dirt, allow multi-stage filtration and aid low noise - a plus where cleaning staff work with residents in situ, such as nursing homes and hospitals.

The hard choice The alternative to an upright is the cylinder or 'tub' vacuum machine. These are simple to use, are suitable where hard flooring predominates and have the advantage of reaching every part of a floor, excelling when it comes to cleaning stairs and under beds.

Machines with a low centre of gravity are extremely stable and those with a separate handle on the suction tube offer better control and fatigue-free use, making cleaning fast and easy. On some machines, a lightweight telescopic tube, adjustable for the most comfortable height, is sometimes combined with multi-floor cleaning heads to enable both hard floors and carpet to be cleaned. In addition, on-board crevice and upholstery nozzles provide cleaning flexibility. Cylinders can be fitted with turbo or electrically driven brushes. However, not all are effective or durable enough for commercial environments. In terms of reach, good cylinders have an extensive range and offer electronic power control to ensure the optimum suction setting and minimum power consumption together with high levels of filtration. Sealable, large capacity bags save time and minimise spills.

Polishing off Whether solid wood, marble, vinyl, linoleum or granite, hard floors are prone to dullness and scratches over time. Ultra High Speed (UHS) polishers which spin at more than 1000rpm (rotations per minute), are easy to use and accelerate the cleaning process while achieving shine.

Before investing in these machines, it is important to make informed decisions with regards both to value and functionality.

The first point to consider is the floor area. For very large areas such as a shopping mall, a ride-on model with its own power source is an expensive but essential option. Large areas, such as high capacity halls, sports halls and major auditoriums, may require a fairly substantial walkbehind model with a minimum polishing disk width of 45cm. Smaller spaces - for example, hotel receptions, shops, offices, nursing homes, schools and medical facilities - are suited to a compact UHS polisher which can cope with awkward spaces and narrow corridors.

The second point to consider is ease of use.

It's difficult for a heavy machine to be supported only by the polishing pad. Many polishers use an adjustable jockey wheel or similar which takes the weight off the polishing pad. However, this can compromise manoeuvrability. When using these machines with the latest diamond pads, water has to be applied to the floor to reduce friction and control dust which can not only cause a health and safety hazard but also needs to be removed.

Investing in a two-in-one model, that will vacuum as it goes and does not require water, saves on labour costs and means that health and safety considerations are eliminated. As the vacuum is attached to the polisher head via a simple one-button push and slide action, the cleaner can be used independently from the polisher so is suitable in situations where there is both textile and hard flooring.

The choice of polishing pad is a critical factor.

Conventional pads, that require the addition of a chemical polish, provide a high gloss shine by creating a new surface coating. However, this can be a lengthy multi-stage process. Those looking to achieve a serious shine with minimum effort should opt for the latest diamond impregnated pads that rely solely on the mechanical action of the spinning polishing pad. Used in conjunction with UHS polishers, these produce high-shine surfaces with minimal effort because the microdiamonds embedded in the pads bring a high gloss by polishing out imperfections in the floor, without using chemicals and avoiding the risk of slipping.

Whether selecting a floor polisher, upright vacuum cleaner or cylinder vacuum cleaner, it is worth remembering that they are important investments. Choosing the right one is essential if flooring of any type is to be kept looking good and consistently clean.
OTHER ARTICLES IN THIS SECTION