Certification is key to the mark
07 March 2013
Anglian Chemicals is now offering BS EN1976 certified own brand products making it easier to comply with demand from authorities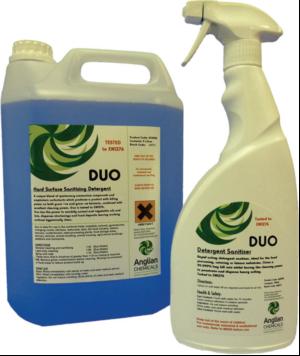 Anglian Chemicals is now offering BS EN1976 certified own brand products making it easier to comply with demand from authorities

Anglian chemicals are one of central and eastern England's premier janitorial suppliers who also manufacturer and supply an extensive range of performance cleaning chemicals. The company places a high emphasis on research and development, with an on-site laboratory and chemist allowing the development of cleaning and maintenance products.

'Having BS EN1276 certificated products is essential to demonstrating the power and bactericidal effectiveness of our products,' says Paul Hendry-Smith, MD. 'Duo Detergent Sanitiser is one of the company's first products to be tested, allowing our customers to comply fully with the European standards which many authorities now demand as standard.' Duo is a complete floor, wall and hard surface sanitising detergent. It has a blend of quaternary ammonium compounds and amphoteric surfactants whose synergy produce a product with 'outstanding killing power' on both gram positive and gram negative bacteria, combined with excellent cleaning power.

It has the ability to emulsify vegetable oils and animal fats, along with dispersing shortenings and food deposits, leaving work surfaces hygienically clean. It is highly economical in use and kills nearly all bacteria at 300:1 claims the company.

'We are currently in the process of refreshing our sanitising range which will include the development of new products to make cleaning easier,' explains Stephen Lawrence, company chemist. 'If we can reduce the time and effort needed to clean by increasing our products' effectiveness then we have achieved our aim of producing high quality goods.

'Many of these products are due for release in the near future.' Please contact the company for further information on purchase and distribution of janitorial products.
OTHER ARTICLES IN THIS SECTION