Hotels supply sustainable stays
07 March 2013
Diversey's new Pur-Eco range has the EU Ecolabel, and is just the job for hotels and buildings where sustainability is a must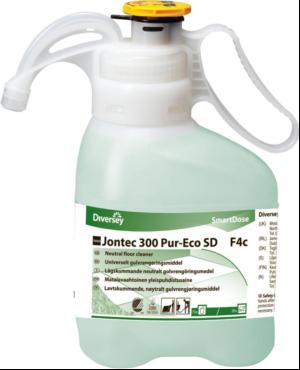 Diversey's new Pur-Eco range has the EU Ecolabel, and is just the job for hotels and buildings where sustainability is a must

The new Pur-Eco range is a complete set of advanced cleaning products with the latest EU Ecolabel certification for building service contractors and hotels who want to adopt and demonstrate high standards of sustainability. Four new and updated products in the TASKI Pur-Eco range for building care and five new products in the Pur-Eco Room Care range for hospitality have nonclassified formulations to cover all routine and daily cleaning tasks.

Each product is available in super concentrate format for use with selected Diversey dosing and dilution control platforms to promote sustainability with reduced packaging, water consumption and product wastage.

The internationally-recognised EU Ecolabel provides assurance that a product has passed rigorous independent testing and meets strict sustainability and safety criteria. Diversey reformulated the products to comply with the very latest EU Ecolabel requirements while providing the same, 'superior performance, ease of use and safe operation', as its other ranges.

Demand for demonstrability TASKI Pur-Eco fulfils increasing demand from building service contractors and facilities management providers for demonstrably sustainable cleaning operations to support their customers' policies.

Three original Pur-Eco products - acidic washroom, multipurpose/multi-surface, and floor - have now been reformulated and re-certified to ensure continued compliance, while a neutral washroom cleaner has been added to the range so that it covers all routine and daily cleaning tasks. Each product is available as a super concentrate in Diversey's SmartDose or QuattroSelect platforms to prepare accurate and consistent solutions for spray bottles, buckets and floor cleaning machines. SmartDose is a portable system that requires no connection to a local water supply. QuattroSelect is suitable for centralised and intensive operations where it can prepare up to four cleaning solutions at different dilution rates.

'The Room Care Pur-Eco range meets demand from the hospitality industry for a complete set of sustainability-certified products,' says Diversey. 'Certification is important because half of all hotel guests take a hotel's sustainability credentials into account when choosing where to stay'. This is one of the reasons why, according to Diversey's sustainability market research, over half of all hotels are considering ecoaccreditations such as Green Hotel. EU Ecolabel products are a highly visible way to demonstrate credibility and compliance.

Room Care Pur-Eco comprises five advanced EU Ecolabel certified formulations covering all routine and daily housekeeping tasks: toilet cleaner; hard surface cleaner; multi-surface and glass cleaner; acidic washroom cleaner; neutral floor cleaner. The mildly acidic surfactants, derived from natural vegetable sources, help prevent lime-scale. Products are supplied as super concentrates in compact pouches for use with the Divermite dispensing system which ensures simple and accurate preparation of cleaning solutions.

The Pur-Eco range is supplied in industrystandard colour-coded packaging which matches tools and equipment to support simpler training and ease of use.

The Divermite, SmartDose and QuattroSelect super concentrate platforms promote sustainability by ensuring accurate preparation of cleaning solutions with no wastage for optimum performance and consistency. Water is only added at the point of use to minimise chemical miles. Compact packaging and use of recyclable materials means waste management costs are minimised.
OTHER ARTICLES IN THIS SECTION