bpi's got recycling in the bag
07 March 2013
bpi.recycled products has mades a £multi-million investment in new recycling capabilities at its Rhymney factory in South Wales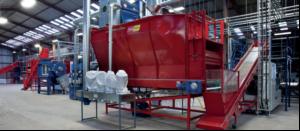 bpi.recycled products has mades a £multi-million investment in new recycling capabilities at its Rhymney factory in South Wales

The ability of the cleaning industry to employ greener products is set to receive a welcome boost thanks to leading manufacturer of refuse and recycling sacks, bpi.recycled products. The business has just commissioned a brand new, state-ofthe- art, waste wash plant at its Rhymney factory in South Wales, which will enable it to strengthen its range of 100% recycled polythene products.

Estimated to have cost in the region of £4.5 million, the new plant will be used to recycle waste such as used agricultural films into products like bpi.recycled products' flagship range of Green Sack refuse sacks. It was officially opened on 9th March at a ceremony attended by representatives from the Environment Agency and DEFRA as well as dignitaries such as Jasper Roberts, Head of Waste, Resources and Efficiencies in the Government of Wales.

The new plant will enable bpi.recycled products, part of British Polythene Industries (BPI) plc and Europe's largest recycler of polythene waste, to recycle an additional 25,000 tonnes of waste material each year. This waste will then be used to create a variety of new second-life products.

In addition to being one of the largest facilities of its kind in Europe, the new wash plant will also be one of the greenest. To maximise its efficiency and reduce its impact on the environment, it employs features such as low energy, high output motors, energy saving lighting and rainwater harvesting to replace the water lost each day.

Commenting on the investment, Gerry McGarry, business director at bpi.recycled products said: "At bpi.recycled products, we're committed to facilitating more efficient, more sustainable means of UK-based recycling as well as to providing closed loop solutions wherever possible. The new plant at Rhymney will help to increase our already extensive recycling capabilities, bringing major benefits not only to our business, but also to UK recycling and to the environment as a whole."
OTHER ARTICLES IN THIS SECTION