Home
>
Clean sweep at BICSc Awards
Clean sweep at BICSc Awards
08 October 2018
The team at Aramark, Northern Ireland's largest provider of facilities and property management services, continued its winning streak taking home two coveted awards at the BICSc Cleaning Awards 2018.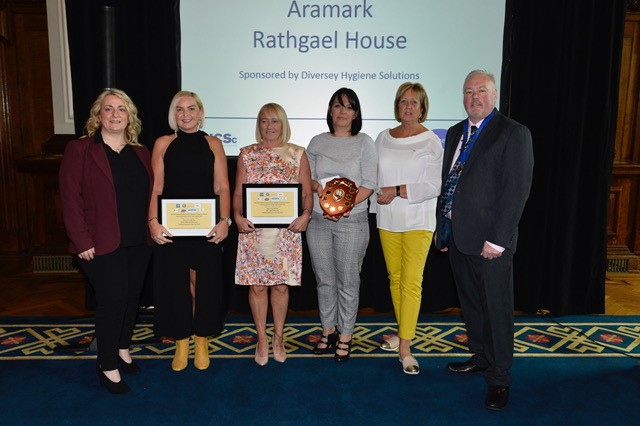 The British Institute of Cleaning Science Awards (BICSc NI Region) celebrates innovation, excellence and the continuous improvement of standards across the professional cleaning industry. The awards were recently held at a gala breakfast event at Belfast City Hall.
Vicky Goodwin of Rathgael House won the category for 'Office space'. Aramark have now won this category an unprecedented six years in a row firmly setting the bar for professional cleaning services in Northern Ireland.
Alison Bell, Aramark supervisor also in Rathgael House, continued her winning streak by taking home the inaugural award for 'Supervisor Recognition'. Alison was named Cleaning Operative of the Year and topped the 'Office Space' category at last year's award ceremony.
Paul Guy, head of marketing and communications for Aramark Northern Europe, said: "This is a fantastic achievement and a testament to the good work of our team in Northern Ireland. We are delighted to be once again recognised by the British Institute of Cleaning Science, the largest independent, professional and educational body within the cleaning industry, as it underlines the incredibly high standards provided by the Aramark team across the region."
Frank Gleeson, president Aramark Northern Europe,said: "I want to congratulate both Alison and Vicky for their hard work and dedication that led to this fantastic achievement. It is wonderful to receive this accolade. Winning two awards is a reflection of the commitment of Aramark staff to provide the highest standards throughout all our client facilities."
MORE FROM THIS COMPANY
No related articles listed
RELATED ARTICLES
No related articles listed
OTHER ARTICLES IN THIS SECTION