Stainless steel washroom accessories
13 November 2018
Dudley Industries discusses the benefits of using stainless steel washroom accessories: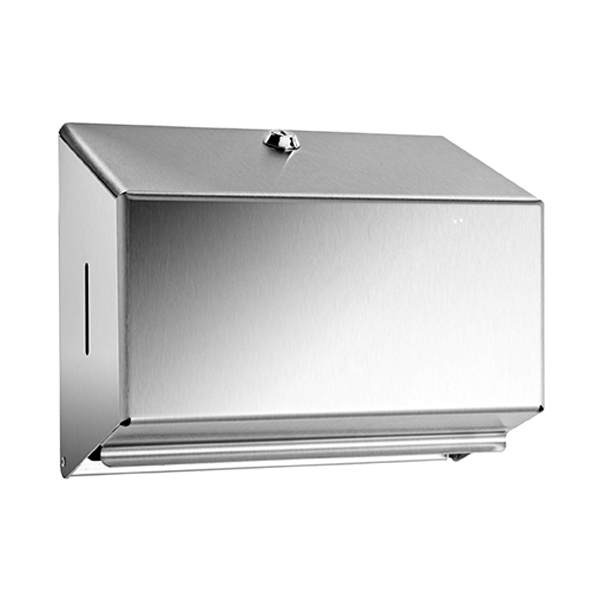 We've been making washroom dispensers for over 76 years and we've extended our range over time to encompass other materials, but we always come back to metal, specifically powder coated steel and stainless steel.
Metal dispensers by their very nature are highly durable. Not only do they look stylish, but they stand up to the busiest of conditions. This durability itself brings many benefits including cost savings. Although the initial outlay for a stainless steel dispenser may be higher than other alternatives in the short term, the promise that it will be effective for many years to come is appealing.
Reliability brings with it peace of mind, we understand that in business there are more important things to worry about than toilet roll holders (that is until you discover an empty one!).
Therefore, by investing in quality dispensers you can trust, you can put washroom management concerns to one side and concentrate on other priorities.
Stainless steel paper towel dispenser
A paper towel dispenser has many requirements. Firstly, it needs to provide storage for enough paper towels to serve the visitors to your washroom. It needs to present the next towel in a hygienic manner whilst limiting any contamination from the wet hands of the previous user. The towels need to dispense easily, be not so tight that the towels rip when pulling them, but also not too loose, which can lead to waste and potentially a mess on the floor. Added to this they need to be easy to clean. The way in which a metal dispenser is made helps to limit joints and seams which can often be a playground for grime and harmful bacteria.
Then we get to the servicing. Units need to be secure to protect the paper from pilfering whilst being easy to open and refilled by the cleaning teams. At this point choosing from the same range of dispensers can help greatly as they are all operated by the same key.
Highly durable toilet roll dispensers
The ability to rate and review public washrooms is the easiest it has been with new apps allowing people to rate the standard of toilets. It is more important than ever to ensure you are providing the right facilities.
Ensure your visitors never face an empty toilet roll dispenser by installing the right model for your premises. A stainless steel toilet roll holder provides durability and a surface that is easy to clean whilst being stylish. The lock ensures the paper is kept safe from 'light fingered' visitors.
Jumbo Toilet Roll Dispensers provide options from mini, midi and maxi roll which can provide in excess of 400m of tissue, reducing the requirement to refill by the cleaning team.
Metal waste bins
Waste bins help to keep a washroom looking clean and tidy. A stainless steel waste bin helps take this to another level by being durable, stylish and easy to clean. Stainless steel is naturally stain resistant helping to keep the surface looking clean.
Metal waste bins by their nature are heavier and therefore more stable to stand up to constant use. Look for designs that allow them to be screwed to the wall for extra security and also designs can hold liners in an easy and convenient manner for emptying.
Supporting hand hygiene
Encouraging and providing facilities for good hand washing helps to keep your team and visitors healthy by reducing the spread of bacteria and viruses that cause illness.
Stainless steel soap dispensers are both stylish and robust. The mechanism to dispense the soap works by push action, which reduces the pressure on the wall fixings ensuring the dispenser stays securely in place.
Whether you are building, refurbishing or just updating your washrooms, a stainless steel range of dispensers can help transform your washroom into a stylish, clean and hygienic environment.
Dudley Industries started out making a metal roller towel cabinet in 1942 and since then we've honed our skills and continued to invest in the latest metal engineering technology, ensuring we remain at the forefront of our industry.
OTHER ARTICLES IN THIS SECTION