Robotic cleaner project
05 November 2018
Ezitracker has collaborated on a project to increase productivity in the cleaning environment with The Perfect Little Company (TPLC). TPLC has successfully developed robotic vacuum cleaning systems for the commercial market, which are already being used to support schools, offices, warehouses and cleaning contractors across the UK.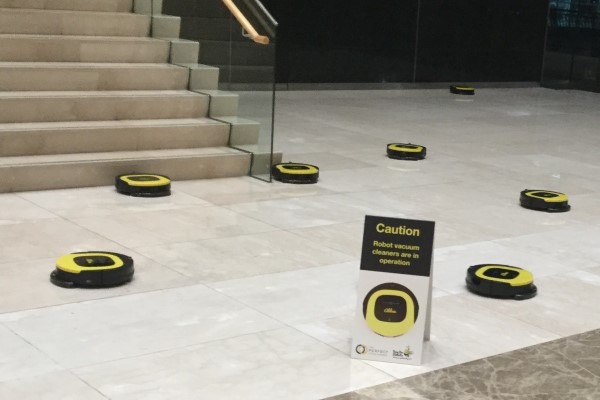 The robots are usually rented in groups of 10 complete with a trolley (a hive), designed to increase efficient use of the robots. Depending on the size of the site, a single operator will typically use between 1 and 4 hives (10 – 40 robots) to vacuum 4,000 – 6,000ft² per hour. A single robot will typically be able to fully vacuum 600 – 800ft² per hour. This means that a single operator with the additional support of robots can increase the size of area vacuumed from a "spot cleaned" 4000ft² area to a fully vacuumed 6,000ft² area. The Hive Cleaning Trolley is used for charging, storing, cleaning and transporting the robots.
During the time that robots spend vacuuming, the cleaners can focus on other cleaning duties such as removing waste, wiping and dusting. On average it takes 15 minutes per trolley (Hive) to distribute, collect then empty the robots, so that creates 45 minutes of "free time" per hour for cleaners to carry out other duties.
Ezitracker's smartphone and mobile technology and in-app communication tools deliver added value by allowing them to log these completed tasks. Contract compliance checks can then happen in real-time, remotely.
Through this partnership, Ezitracker says it is not only able to provide clients with much more detailed analysis on the reliability of employees, but also their productivity, and it makes it easy for clients to identify those employees that are important to retain and where to deploy them whilst the robots clean.
According to Ezitracker, robots introduce a new level of efficiency that human cleaners are simply incapable of; a person can only vacuum or mop so many square feet per hour. Robots enable cleaning to take place at any time, or night, they can also remain operational without intervention for longer periods.
Christian Berenger, managing director, Ezitracker said: "Contractors already using our remote workforce technology are already able to highlight the staff that regularly turn up for work on time and are there until the end of their shift. We found that integrating robotic vacuum cleaners reduced the stress and strain on these cleaning staff. By increasing the amount of available time that they have to complete other cleaning duties, and training the staff to use the technology, it increased the value of each member of the cleaning teams."
OTHER ARTICLES IN THIS SECTION