Home
>
Essity scoops two awards
Essity scoops two awards
14 December 2018
Essity had a highly successful night at the European Cleaning & Hygiene Awards 2018, chalking up two prestigious wins.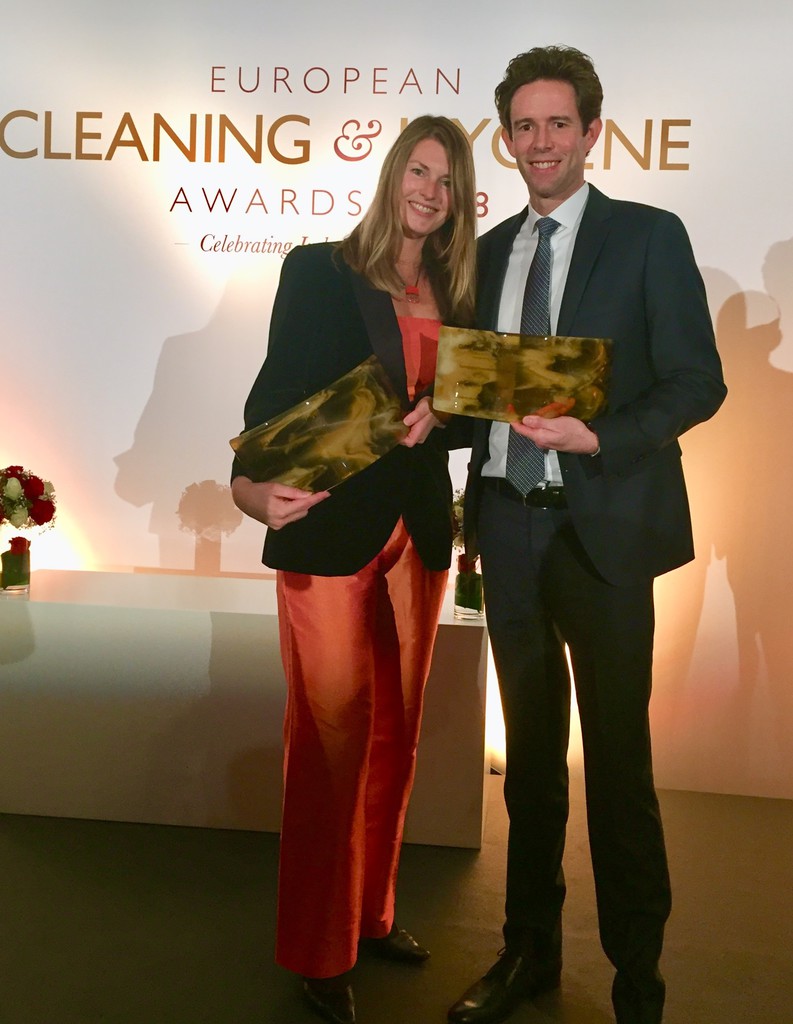 The company won the Best Practice-Sustainability award for Tork PaperCircle and the Technological Innovation of the Year for Tork EasyCube.
Launched in 2014, Tork EasyCube is facility management software for data-driven cleaning. Sensors in washrooms measure visitor traffic and dispenser refill levels so that facility managers and cleaning staff can target those areas where they are needed most. Tork EasyCube is currently being used in more than 100 high-traffic venues ranging from amusement parks and shopping malls to airports and office buildings.
Tork PaperCircle, currently available in some countries in Europe, is described as the world's first recycling service for paper hand towels. Used paper hand towels are collected from companies' premises and taken to local recycling centres where they are turned into other tissue products. The service enables customers to cut their environmental footprint by 40 per cent compared with current waste handling options.
"These two awards show how our sustainability approach for the Tork brand is enabling customers to secure their own goals on circularity, waste and well-being of their staff and customers," says President for Professional Hygiene at Essity Don Lewis. "Our ambition to be leading with IoT tools in professional hygiene can only be realised if we keep showing customer value, customer success and constantly updating our offer."
The European Cleaning & Hygiene Awards, now in their third year, were held at Berlin's Hotel Palace. The aim of the awards is to recognise and reward standards of excellence in all areas and at all levels of employee policy, client relationships, sustainability and innovation.
Judging panel member Michelle Marshall said: "We had some extremely strong entries this year, which is testament to the hard work and dedication of the sector. Our 2018 winners represent some of the most forward-thinking, innovative businesses who are really making a difference in our industry. Congratulations to our 2018 winners."
RELATED ARTICLES
No related articles listed
OTHER ARTICLES IN THIS SECTION