Cleaning at Farnborough Airshow
06 September 2018
A site as unique as Farnborough comes with many challenges. With more than 200 separate buildings, cabins and toilets to clean the main concern for Stadium Support Services was that an area might be missed. To avoid this, the company used SmartTask to monitor and coordinate its cleaning operation. The software provided real-time visibility and control over the 100-strong team through the use of NFC tags and QR codes.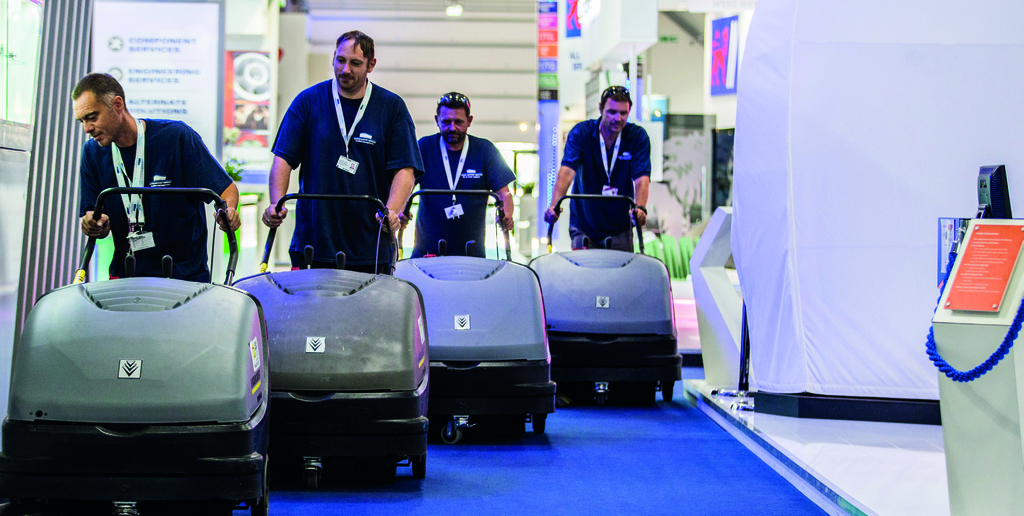 Cordless technology was championed during the day to minimise disruption to guests and reduce the risk of trip hazards. With 70,000m2 of exhibition space to deep clean every night, larger industrial cordless machines were brought in for the out-of-hours crew.
Motivating staff was key to the overall success of the project and significant time and effort was invested into staff training to ensure the cleaners were also developed into brand ambassadors for the event. This additional level of customer service for guests, coupled with a management team that were onsite months in advance of the Airshow to get to know fellow contractors, clients and the site in general led to the cleaning operation at Farnborough International Airshow 2018 being a huge success.
"We are really pleased with what Stadium Support Services has achieved at this show and we have received nothing but positive feedback and comments from our exhibitors and visitors. The organisation, dedication and effort from them is exemplary," Neil Theuma, operations director at Farnborough International Airshow, said.
www.StadiumSupportServices.co.uk
Tel: 020 8898 7253
OTHER ARTICLES IN THIS SECTION