LATEST NEWS
Rochdale wins ABCD Cleaning Team of the Year 2017
22 May 2017
Rochdale Council's Town Hall Team has been named as the inaugural winners of the Cleaning Team of the Year Award. The awards, which are sponsored by the Association of Building Cleaning Direct Service Providers (ABCD) and Denis Rawlins, have been established to recognise and promote team achievement in the public sector and the judges said Rochdale showed 'exceptional standards' and were worthy winners.
[Read More]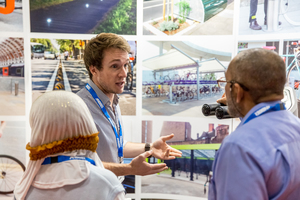 22 May 2017
Facilities Show: Be part of the global FM event when professionals gather this June in London [Read More]
SPONSORED CONTENT
Selecting the right Scrubber Dryer can be a confusing choice with a long list of options. To make things easier here's five factors to consider when selecting a compact battery scrubber dryer. [Read More]

More Sponsored Content
HOT TOPIC
Outbreaks of an infectious virus or bacterial contamination can happen anywhere, so ensuring continuous high standards to prevent the spread of infection has never been more important. Cross-contamination can be limited by meticulous cleaning regimes and good hand hygiene.
[Read More]
LATEST VIDEOS
INDUSTRY UPDATE