LATEST NEWS
ABM awarded the top Loo of the Year trophy
12 December 2017
ABM, a facility services company since 1987, were awarded the prestigious Overall Loo of the Year Award Trophy at the Loo of the Year Awards 30th Anniversary event on Friday 8th December.
[Read More]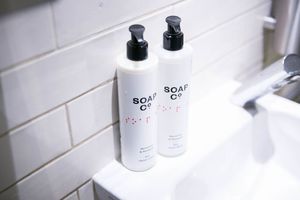 07 December 2017
Marking its second birthday, the award winning The Soap Co. has launched its collection of luxury eco and bee-friendly hand and body products and cold processed soaps. [Read More]
SPONSORED CONTENT
Selecting the right Scrubber Dryer can be a confusing choice with a long list of options. To make things easier here's five factors to consider when selecting a compact battery scrubber dryer. [Read More]

More Sponsored Content
HOT TOPIC
Creating a safe and healthy environment through cleaning is always important – but when that's in a food area, the demands are even higher. The UK has more than 500,000 reported cases of food poisoning each year with cross contamination one of the most common causes. With risks to public health significant, the application of proper cleaning knowledge is essential.
[Read More]
LATEST VIDEOS
INDUSTRY UPDATE